The black pudding of Burgos is another of the products derived from the pig and whose origin responds, as in the other cases, to the need to find formulas to preserve and extend the consumption of the "slaughter" obtained for a long time and achieve thus a better use of family resources, scarce in the early stages, when these techniques were developed.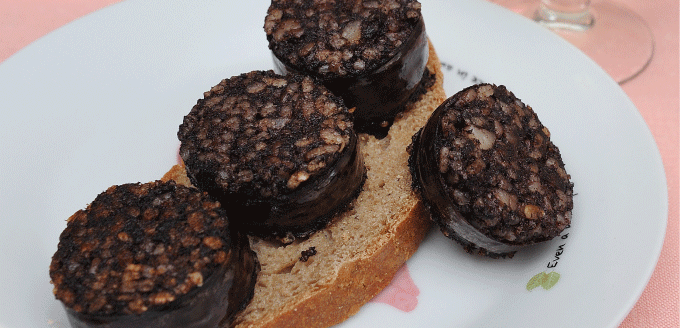 Unlike other derivatives of pork, the Morcilla de Burgos does not contain meat, and the pork products used for its preparation are blood, lard and gut.
The content of the black pudding of Burgos is rice, onion, lard, salt and spices, all mixed and agglutinated with blood and then stuffed in the gut.
These components, especially the blood and the dark color, almost black, that it provides, makes it difficult for many people who have never tried it, its initial tasting, an attitude that disappears after having tasted and appreciated the extraordinary gastronomic value from the Morcilla de Burgos.
Like all products derived from pork, black pudding is traditionally produced in most of the villages of Spain, with singularities in each of them, with respect to its content in spices and even in the content or not of rice, but the Blood Sausage Burgos, thanks to its quality and dedication in manufacturing, has managed to differentiate itself from all of them and be at the top in terms of quality, having achieved the Protected Designation of Origin and the Indication of Protected Origin granted by the European Economic Community.
There are many forms of consumption of this product and all of them enjoy great recognition by consumers.
The black pudding of Burgos is essential in barbecues, grilled, for which you must be careful to prick the skin for many points to avoid bursting with heat.
The black pudding of Burgos is also eaten fried, sliced or whole if the piece is thin.
The black pudding of Burgos is used as a complement in the preparation of exquisite dishes such as tripe, fabada, cooked or baked rice.
There are also those who like to prepare a scramble with the black pudding of Burgos, and for this purpose they crumble it before removing it from the gut where it is stuffed, resulting in a delicious dish.
So, my recommendation is not to be influenced in the first tasting by the color or appearance of the black pudding of Burgos and start your tasting. I am convinced that not only will they not regret it, but they will become regular consumers of this product.
You can buy black pudding of Burgos online through our Gastronomic Spain page and receive it at home comfortably, in any country in Europe, in conditions and prices that will surprise you.
Source Url: https://www.gastronomicspain.com/blog/en/cook-black-pudding-of-burgos/